Faculty
---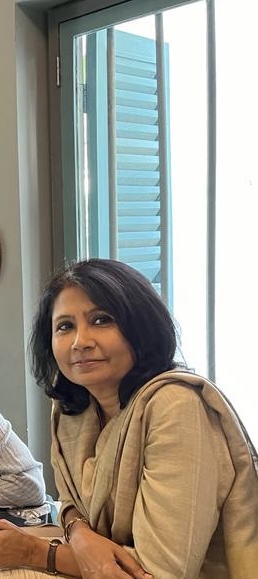 Prof. Rosinka Chaudhuri
Professor in Cultural Studies
D. Phil. (Oxford University, UK)
Centre for Studies in Social Sciences, Calcutta
R–1, Baishnabghata Patuli Township, Kolkata – 700 094, India
Tel : +91 (0)33 2462 7252 / 5794 / 5795 / 2436 8313 / 7794 / 95 / 97
Room Extn. : 218 Fax : +91 (0)33 2462 6183
Email : rosinka@cssscal.org
Rosinka Chaudhuri is Professor of Cultural Studies and Director of the Centre for Studies in Social Sciences, Calcutta (CSSSC). She is also the inaugural Mellon Professor of the Global South at the University of Oxford, 2017-18.
She has published: Gentlemen Poets in Colonial Bengal: Emergent Nationalism and the Orientalist Project (Seagull: 2002), Freedom and Beef-Steaks: Colonial Calcutta Culture (Orient Blackswan: 2012) and The Literary Thing: History, Poetry and the Making of a Modern Literary Culture (Oxford University Press: 2013, Peter Lang: 2014), and has edited: Derozio, Poet of India: A Definitive Edition (Oxford University Press, 2008), and, with Elleke Boehmer, The Indian Postcolonial (Routledge, 2010). Her most recent publication is A History of Indian Poetry in English, published by Cambridge University Press, New York, in March 2016.
She has also translated and introduced the complete text of the letters Rabindranath Tagore wrote his niece Indira Debi as a young man, calling it Letters from a Young Poet (1887-94) (Penguin Modern Classics, 2014); this received an Honorable Mention in the category A.K. Ramanujan Prize for Translation (S. Asia) at the Association for Asian Studies Book Prizes 2016. Currently, she is editing and introducing An Acre of Green Grass: English Writings of Buddhadeva Bose for Oxford University Press, New Delhi. Her current research is tentatively titled Young Bengal and the Empire of the Middle Classes.